---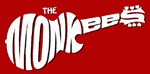 The Birds, The Bees,
and The Monkees
Fantasy Album
---
Greatest Hits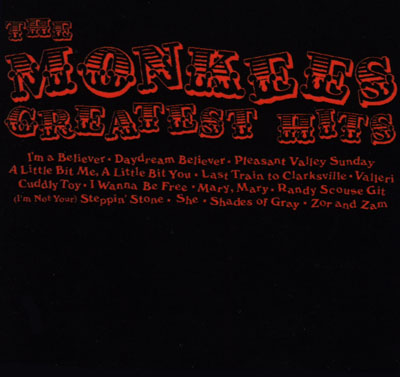 Colgems COS-109
Released April 22, 1968
I think the Monkees would have been much better served releasing a "Greatest Hits" LP in early 68 and then a new album a couple months later. So, that's what I've shown below. The greatest hits package would include all the sides of their first five singles plus the new single, "Valleri" bw/ "I'll Be Back Upon My Feet." In some ways, this album wraps up the TV show years.
A:
1 Last Train To Clarksville
2 I Wanna Be Free
3 I'm A Believer
4 (I'm Not Your) Steppin' Stone
5 A Little Bit Me, A Little Bit You
6 The Girl I Knew Somewhere
B:
1 Pleasant Valley Sunday
2 Words
3 Daydream Believer
4 Love Is Only Sleeping
5 Valleri
6 I'll Be Back Upon My Feet

single: 4/68 - Valleri bw/ I'll Be Back Upon My Feet

---
The Birds, The Bees, & The Monkees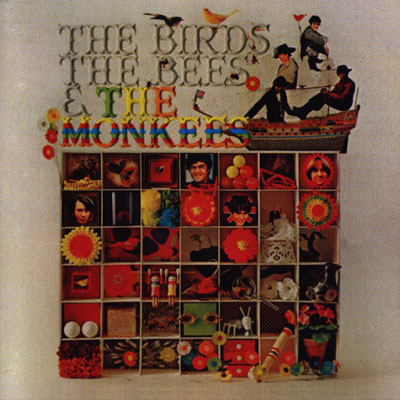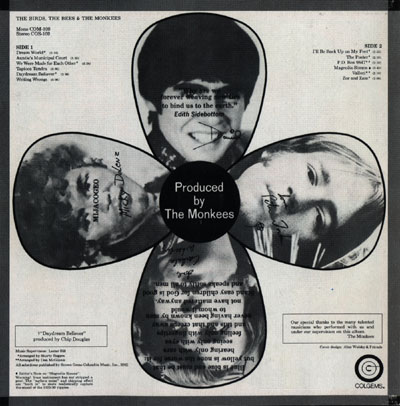 Colgems COS-110
Released June 1968
As far as the new album, it's time for the Monkees sound to grow up. Gone are the nonsense and psychadelic, and in with the more grown-up sounding tracks. Plus, Peter gets better represented here than before.
A:
1 Through The Looking Glass
2 Don't Listen To Linda
3 Tear The Top Right Off My Head
4 We Were Made For Each Other
5 P.O. Box 9847
6 Seeger's Theme
7 Come On In
B:
1 While I Cry
2 It's Nice To Be With You
3 Lady's Baby
4 The Girl I Left Behind Me
5 If I Ever Get To Saginaw Again
6 Zor And Zam

single: 6/68 - While I Cry bw/ Zor And Zam

---
The Monkees Music Vault
The Monkees (C) 2001. Rhino Records, Inc. All rights reserved.
---